VW Golf MK2 1.8 16V KR Throttle Body 027063A 027 063 BA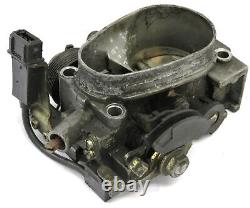 VW Golf MK2 1.8 16V KR Throttle Body 027063A 027 063 BA. Model : Golf Part Number : 027 063 BA Listing ID : 334535850173. Add our VW shop to your Favourites list.
VW GOLF MK2 GTI 1.8 16V KR THROTTLE BODY 027063BA. VW Front Axle, Diff & Steering. VW Fuel, Heat, & Cooling Parts. VW Hand & Foot Leavers.
VW Wheels, Brakes & Suspension. When it comes to replacing parts on your Volkswagen, there are a number of options available. Genuine VW parts from your dealer come with the price tag. The obvious advantage of genuine VW parts are that they are high quality, designed to exactly fit your vehicle and are built to last, VW's reputation for reliability did not come from compromising on quality. Our parts are original VW used parts, so you don't have to compromise on quality when making huge savings. If you find what you need but have any questions or queries, or need help and advice along the way, please get in touch by telephone during normal office hours on 01245 36 20 20, or send us a message.
Our team of VW experts are ready to help. Partners - Gary Stevens & Debbie Stevens VAT number - 123 3781 30 Website design and development provided by nakedWeb Ltd.

---